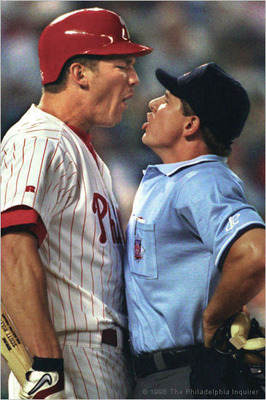 Date of Game: Tuesday, June 16, 1998
Location: Veterans Stadium
Opponent: Pittsburgh Pirates
Final Score: Phillies 8, Pirates 7
Winning Pitcher: Robert Dodd
Losing Pitcher: Rich Loiselle
Home Runs: Gregg Jefferies, Mike Lieberthal, Al Martin, Aramis Ramirez
Phillies Starting Lineup
Doug Glanville, cf
Gregg Jefferies, lf
Scott Rolen, 3b
Rico Brogna, 1b
Mark Lewis, 2b
Bobby Abreu, rf
Mark Parent, c
Desi Relaford, ss
Tyler Green, p
Pirates Starting Lineup
Tony Womack, 2b
Al Martin, lf
Jason Kendall, c
Kevin Young, 1b
Turner Ward, cf
Jose Guillen, rf
Aramis Ramirez, 3b
Lou Collier, ss
Jose Silva, p
About this game: One of the most charming aspects of baseball is the fact that there is no time clock. A team is not able to sit on the ball when they have the lead late in a game. Sure, there are often large leads in games and closing out the victory is more or less inevitable, but a win is never completely secure until the final out is recorded. Every now and then, a team can appear dead in the water until things fall into place at the very end and they rally for a victory that nobody had any reason to see coming. On this rainy June night in 1998, the Phillies played eight dismal innings against the Pittsburgh Pirates before coming to life in a ninth inning that once again proved why leaving a game early is never a wise choice.
Like they did for almost the entire 1998 season, the Phillies occupied third place in the National League East on June 16. Their record entering that day was 32-34, 13.5 games behind the Atlanta Braves, who were in the process of running away and hiding with yet another division title. Of course, expectations for the Phils in 1998 were quite different from what we've become accustomed to in this current era. The main goal for that season was gaining some level of respectability after finishing in last place the previous two years, and being within striking distance of .500 was considered significant progress. The Pirates were coming off a 1997 season that saw them finish 79-83 but just five games behind the NL Central Champion Houston Astros. They entered this day with a record of 34-35, 8.5 games behind the Astros, who would go on to win the second of three consecutive division titles in '98.
This was the middle contest of a three-game series between the Phillies and Buccos at Veterans Stadium. The Phils had taken the previous night's series opener by a score of 2-1 as Matt Beech struck out 11 while allowing a run on four hits over eight innings, outdueling future Phillie Jon Lieber. Mark Leiter worked a 1-2-3 ninth to pick up the save. Tyler Green would get the start for the Phillies in the second game of the series, with Jose Silva getting the ball for Pittsburgh.
The Pirates struck first in the game thanks to a two-out rally in the first inning. Jason Kendall started the rally with an infield single, then advanced to second on a wild pitch before coming around to score on a single by Kevin Young. Though a three-run homer by Al Martin in the second increased Pittsburgh's lead to 4-0, the Bucs got some bad news that inning when starting pitcher Jose Silva's wrist was broken as he attempted to get out of the way of a Tyler Green pitch after squaring to bunt. Esteban Loaiza took over on the hill and proceeded to limit the Phillies to a run on three hits over five innings, the only score coming on a solo homer by Gregg Jefferies in the sixth. Meanwhile, the Pirates would hit another three-run homer off Green in the fifth, this one by 19-year old rookie Aramis Ramirez to give Pittsburgh a 7-0 lead. By that point, it seemed as though the only thing noteworthy coming from the Phils that night would be the first career ejection for Scott Rolen, who was tossed by home plate umpire Greg Gibson after arguing a called third strike leading off the fourth. The normally mild-mannered Rolen had to be restrained during the heated argument by on-deck hitter Rico Brogna, first base coach Brad Mills and manager Terry Francona, who was also thrown out. If that wasn't bad enough, there was a 63-minute rain delay mixed in during the seventh inning. Despite the lopsided score, crew chief Terry Tata decided to wait it out, which would pay off when all was said and done.
Green's night came to an end following the fifth inning. Darrin Winston, Toby Borland, and Robert Dodd kept the Pirates off the board the rest of the way, but the Phillies were unable to muster anything on offense aside from the Jefferies homer and found themselves down 7-1 entering the last of the ninth. Elmer Dessens worked two shutout innings following the rain delay and turned things over to Ricardo Rincon to finish off what looked like an easy Pirates victory. The Phils had a rally left in them, however, and they were aided by the fact that the Bucs had a meltdown left in them.
Mark Lewis opened the ninth with a single and came around to score when Bobby Abreu followed with a triple to make it 7-2. After walks to Mark Parent and Desi Relaford loaded the bases, Rincon was lifted in favor of Pirates closer Rich Loiselle. Alex Arias greeted Loiselle with what appeared to be a double play grounder, but shortstop Lou Collier booted the ball for an error that scored Abreu and Parent to make it 7-4. Relaford advanced to third on the play and came home when Doug Glanville followed with a sacrifice fly to get the Phils to within 7-5. Kevin Sefcik grounded into a fielder's choice for the second out, but Kevin Jordan drew the third walk of the inning to keep the game alive for Mike Lieberthal, who was pinch-hitting for Dodd. Loiselle got two quick strikes on Lieberthal, but after working the count to 2-2, Lieberthal sent a screaming line drive off the backdrop above the wall in left-center for a three-run homer to give the Phillies an unfathomable 8-7 victory. Despite getting just three hits in the ninth inning, the Phils scored seven times thanks to three walks and a crucial Pirates error. Four of the runs were unearned. Dodd got the win, his only decision in what turned out to be the last of four career MLB appearances. He was optioned to Scranton/Wilkes-Barre after the game when fellow lefty reliever Yorkis Perez was activated from the disabled list and never made it back to the big leagues.
Curt Schilling would two-hit the Pirates the following afternoon as the Phillies completed a three-game sweep with a 3-1 victory. The win in the series finale pushed the Phils to .500 on the season. They would get to as many as five games over near the end of July, but a 20-37 mark over the season's final two months left them at 75-87 overall. Rolen faced no disciplinary action after his ejection and went on to have what would be his finest season as a Phillie, hitting .290 with 31 homers, 110 RBI, and 120 runs scored in 160 games while also taking home his first Gold Glove award. The Pirates entered the series against the Phils at .500. They left town three games under and would never make it back to sea level, finishing last in the NL Central at 69-93, including a 5-25 freefall to close out the campaign.
Personal Recollection: It can generally be assumed that the vast majority of Random Past Games featured on here will be ones that I attended. Taking that into consideration, you may be surprised to know that I did not attend this game. In fact, you may even find it a bit shocking that I turned down free tickets. Of course, I had a reason as I happened to be graduating from high school that night. See, I went to two different high schools, transferring after my sophomore year. The school that I transferred from had their graduation in that morning and some of my friends from there had been given tickets for the game that night. I was asked if I wanted to go, but obviously had to turn down the invitation.
I first tuned into the game on the radio en route to a graduation party. It was right around when Scott Rolen was ejected, and I remember Harry Kalas remarking that he'd never seen Rolen get mad about anything before. It was the second time Rolen had been called out on strikes by Greg Gibson, who was a rookie filling in for Eric Gregg at the time. Watching the highlights later, both pitches appeared to be off the plate. The first time Rolen was rung up, he gave Gibson a quick look before slapping his bat. The second time, he had a quick word for Gibson, who let's just say made sure everyone in the stadium knew he was throwing Rolen out. Rolen came back and went face-to-face with Gibson before finally being restrained. The fact Rolen was not disciplined pretty much shows that the league felt Gibson went a little overboard. Think along the lines of Ryan Howard and Scott Barry last season.
I saw very little of this game on TV, as I was busy dropping by various parties. I remember watching the homer by Aramis Ramirez to make it 7-0 and thinking maybe it was for the best that I was forced to turn town free tickets. At some point, I saw the tarp had been brought out and figured since it was 7-1 in the seventh inning, they were just going to call the game. It wasn't until I got home that I found out how the game ended. I tried to stay up and watch the replay, but didn't make it very far.
Of course, it probably goes without saying Harry made a great call on Lieberthal's walkoff. "LONG DRIVE...COULD IT BE? IT IS! A GAME-WINNING, PINCH-HIT HOME RUN, MIKE LIEBERTHAL AND THE PHILLIES WIN IT, 8 TO 7! What a devastating loss for the Pirates, what an exhilarating win for the Fightin' Phils!" Tough one to have to miss, but still a memorable night all in all.
That's my story on June 16, 1998. Do you remember this game? If so, feel free to share your own recollections!