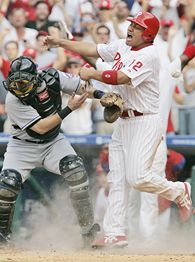 Name: Tadahito Iguchi
Position: Second Baseman
Born: December 4, 1974 in Tokyo, Japan
Acquired, Part I: From the Chicago White Sox in exchange for Michael Dubee on July 27, 2007
Acquired, Part II: Signed as a free agent on September 5, 2008
Phillies Debut: July 28, 2007
Final Phillies Game: September 28, 2008
Uniform Numbers: 12, 9
Career Elsewhere: White Sox (2005-07), Padres (2008)
About Tadahito Iguchi: In most sports, there are few times more hectic than the period right before the trade deadline. Contending teams scour the rosters of the non-contenders to see which players could potentially fill a need that could put them over the top. General managers are constantly working the phones to try and find a match. Players try to remain focused on the job at hand, but hear the rumors involving themselves or their teammates. Some deals are discussed at length publicly before finally coming to fruition. Others come together quickly, sometimes after a brief 11th-hour discussion between parties. A deal can also occur when a sudden need pops up due to unforeseen circumstances. That is how one Tadahito Iguchi came to be a Phillie. The first Asian-born and raised player to suit up for the club, Iguchi turned what appeared to be a crippling twist of fate into a move that helped save a season and take the team somewhere it hadn't been in quite some time.
Unlike other Random Past Phillies to be feature on here, Tadahito Iguchi's journey in professional baseball did not begin with an affiliate of a Major League Baseball team. Instead, it began in 1996, when he was selected by the Fukuoka Daiei Hawks of the Japanese Pacific League. Iguchi debuted with that club in 1997 and remained with them through 2004. After struggling through his first four seasons in Japan, Iguchi broke out in 2001, hitting .261 with 30 home runs, 97 RBI, and 44 stolen bases. Two years later, he hit .340 with 27 homers, 109 RBI and 42 steals and followed it up by hitting .333 with 24 home runs and 89 RBI in 2004. Following the '04 campaign, Iguchi became a free agent and decided to take his talents to North America. He signed with the Chicago White Sox and would become the team's starting second baseman after beating out Willie Harris for the job in Spring Training.
While Japanese pitchers have been making an impact on MLB mounds for the better part of the past two decades, position players haven't experienced nearly the same level of success. One player who didn't seem to have much difficulty making the adjustment was Iguchi, who hit .278 with 15 home runs and 71 RBI in 135 games for the White Sox in 2005. It was a memorable year all around for the Pale Hose, as they won 99 games en route to bringing home the franchise's first World Series title since 1917.
Iguchi made an impact in the postseason, as his three-run homer in the fifth inning of Game 2 of the American League Division Series against the Boston Red Sox gave the White Sox a 5-4 lead they would never relinquish. The victory gave Chicago a 2-0 lead in the best-of-five series, which they would sweep with a 5-3 victory in Game 3 at Fenway Park. The White Sox would then defeat the Los Angeles Angels of Anaheim in the American League Championship Series, four games to one before sweeping four straight from the Houston Astros to win the World Series. Iguchi hit just .191 in 12 postseason games, but got the prize all players covet. It was the third professional championship for Iguchi, whose Fukuoka Daiei Hawks took home the Japan Series crown in 1999 and 2003.
Iguchi proved his first MLB season was no fluke in 2006, as he hit .281 with 18 home runs and 67 RBI in 138 games. The White Sox would not be able to defend their World Championship, however, as their 90-72 record left them in third place in the American League Central, six games behind the Minnesota Twins and five behind the Wild Card-winning and eventual AL Champion Detroit Tigers. Things would fall apart for the ChiSox in 2007, as they stumbled to fourth place with a 72-90 record. Iguchi also encountered his share of difficulty, hitting .251 with six home runs and 31 RBI in 90 games.
With his contract set to expire after the 2007 season, Iguchi was made available as the July 31 non-waiver trade deadline approached. On July 26, the Phillies received devastating news as Chase Utley went down with a broken hand after being hit by a pitch thrown by John Lannan of the Washington Nationals. With their season hanging in the balance, the Phils acted quickly and struck a deal with the White Sox the very next day. Iguchi was off to Philadelphia, where he would become the first player in franchise history who was born and raised in Asia (Bruce Chen, who pitched for the Phillies in 2000 and 2001, is of Chinese descent but was born and raised in Panama). Heading to Chicago was pitcher Michael Dubee, son of Phils pitching coach Rich Dubee.
Perhaps rejuvenated by finding himself back in a playoff race, Iguchi wasted little time making an impression with the Phillies. He collected a single and sacrifice fly in his first game with his new club, a 10-5 victory over the Pittsburgh Pirates on July 28. Iguchi would hit safely in 17 of his first 21 starts with the Phils, including 11 multi-hit games. Though his impact was appreciated and sorely needed, it was a known fact that Iguchi was living on borrowed time in the Phillies' lineup. Utley returned from the disabled list on August 27, and Iguchi would only make three more starts for the remainder of the season.
Though his playing time had been drastically reduced, Iguchi still managed to make an impact. On August 30, he delivered a game-tying pinch-hit RBI single in the ninth inning off New York Mets closer Billy Wagner, then stole second before being singled home by Utley with the winning run in a rousing 11-10 victory that gave the Phillies a four-game series sweep. Against the Nationals on September 30, Iguchi lifted a pinch-hit sacrifice fly to give the Phils a 4-1 lead in a game they went on to win by a score of 6-1 to clinch the National League East on the final day of the regular season. It was the first NL East title for the Phillies since 1993 and capped an amazing comeback in which they edged out the Mets after trailing by seven games with only 17 to go. The postseason was another story, though, as the Phils were swept in three straight by the eventual National League Champion Colorado Rockies in the NLDS. Iguchi appeared in all three games, going hitless in one at-bat and walking twice as a pinch-hitter.
Like many players who are acquired at the trade deadline, Iguchi was strictly a rental for the Phillies. A healthy Utley meant the club would not be able to give Iguchi the playing time he'd receive elsewhere, so the two sides parted amicably and were never very far from each other's mind. For the time being, Iguchi's next opportunity would come with the San Diego Padres, who signed him as their starting second baseman for the 2008 season. After winning the National League West in 2005 and 2006, the Padres lost a heartbreaking Wild Card tiebreaker in 2007, allowing three runs to the Rockies in the bottom of the 13th inning in a 9-8 loss. San Diego went into a freefall in '08, losing 99 games and finishing last. Iguchi suffered through a dismal season himself, hitting .231 in 81 games. With the campaign a lost cause, the Padres released Iguchi on September 1, allowing him to sign on with another team for the home stretch. To nobody's surprise, Iguchi became a Phillie again four days later.
Iguchi's second stint in Philadelphia did not have nearly the same impact as his first, as he appeared in just four games after signing with the Phillies, collecting two hits in seven at-bats. His only start came in the final game of the regular season on September 28, a contest that had become meaningless after the Phils clinched their second straight NL East title the previous day. Because Iguchi was not a member of the Phillies' organization prior to September 1, he was not eligible to be included on the postseason roster and was not with the club when they won the second World Series title in franchise history by defeating the Tampa Bay Rays, four games to one. He did, however, receive a World Series ring, his second in four MLB seasons. In doing so, Iguchi became the first player to ever win multiple Japan Series and World Series titles.
Unlike the previous offseason, Iguchi would have any full-time offers from MLB clubs waiting for him. Still wanting to be an everyday player, he returned to Japan as a member of the Chiba Lotte Marines, with whom he still plays. The Marines won the Japan Series title in 2010, making Iguchi a member of three championship squads in Japan and five overall as a professional ballplayer.
Personal Recollection: There wasn't much fanfare for Tadahito Iguchi when he was acquired by the Phillies, but man what a pickup he was in 2007. He'd been a nice player with the White Sox, but the Phils were pretty well set at second base themselves with Chase Utley. Then Utley's hand gets broken and let's face it, things didn't seem too promising for the Phillies in '07. But Pat Gillick got on the phone and swung a quick deal to bring in Iguchi and the rest is history.
Actually, the Iguchi trade may have been the only positive that came out of the Freddy Garcia deal. See, Garcia had been acquired by the Phillies from the White Sox following the 2006 season, with Gavin Floyd and Gio Gonzalez going to Chicago. Garcia's only year in Philadelphia was an injury-plagued disaster, as he went 1-5 with a 5.90 ERA in 11 starts. The feeling was that Garcia was damaged goods when the trade was made, but the Phils still allowed it to go through. There was also a feeling that White Sox GM Kenny Williams offered Iguchi to the Phillies as a goodwill gesture of sorts with a player who was at best a fringe prospect at best going to Chicago. In case you were wondering, Michael Dubee has yet to reach the big leagues and is currently a member of the Pittsburgh Pirates organization.
After the 2007 season, the Phillies gave some thought to bringing Iguchi back to play third base, even though he hadn't played anywhere other than second since coming over from Japan. It's not known how seriously he took the offer, but it became a moot point when the Padres had an opening to fill at second base. The Phils eventually ended up signing Pedro Feliz to man the hot corner. Iguchi was welcomed back with open arms in September of 2008, though it's understandable if you've since forgotten that he returned. He'll always have '07, and it's pretty safe to say the Phillies don't win the NL East that year if they don't make that trade.
That's my story on Tadahito Iguchi. Feel free to share your own recollections.