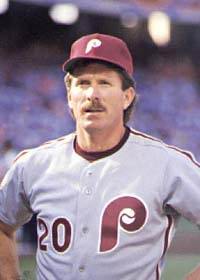 My apologies for the lateness of this article. Got a little sidetracked with some other stuff, and you know how that goes
Year: 1989
Record: 67-95 (6th place in NL East, 26 games behind Chicago Cubs)
Manager: Nick Leyva
Coaches: Larry Bowa, Darold Knowles, Denis Menke, Mike Ryan, Tony Taylor, John Vukovich
General Manager: Lee Thomas
All-Stars: Von Hayes, Mike Schmidt*
Top Draft Pick: Jeff Jackson (1st Round, 4th overall)
*- won fan balloting at third base, but did not play because he had retired
About 1989: In baseball and all sports, franchises go through periods where nothing really seems to work for them. The Philadelphia Phillies have had more than their fair share of such periods over the course of their long history. Eventually, things reach the point where the only viable option is to clean house and start over. By the time the 1989 season rolled around, the Phils knew they had reached that point. However, there was one major obstacle that was preventing the franchise from going with a youth movement, as the greatest player in the team's history was still a member of the club. His sudden, somber retirement early in the campaign took care of that issue and the Phillies underwent a massive facelift almost immediately. The new arrivals livened up a dead clubhouse and perked up the club's on-field performance to a degree, but not nearly enough to prevent a second consecutive last-place finish in the National League East.
The Phillies had finished the 1988 season with a record of 65-96, last in the NL East and 35.5 games behind the Division Champion New York Mets, and 10.5 games behind the next-to-last St. Louis Cardinals. Lee Thomas had taken over as General Manager in June of '88, replacing the fired Woody Woodward. The club's on-field leadership would also change, as Lee Elia was fired as manager with nine games remaining in the season. John Vukovich guided the Phils for the remainder of the '88 campaign, then stayed on as bench coach when 35-year old Cardinals third base coach Nick Leyva was named manager the day after the season ended.
The most notable change among position players entering 1989 was in the middle of the infield, where veterans Tom Herr and Dickie Thon were added to man second base and shortstop, respectively. Herr had been acquired in a trade with the Minnesota Twins that saw lefthanded starting pitcher Shane Rawley head to Minnesota. Thon was signed as a free agent after spending the '88 campaign with the San Diego Padres. Darren Daulton was deemed ready to take on full-time catching responsibilities, replacing free agent bust Lance Parrish, who was dealt to the California Angels in the offseason. Continuing with an experiment that began late in 1988, Juan Samuel would play center field, while a combination of Von Hayes, Chris James, and Ron Jones would handle the corner spots with Hayes also sharing time at first base with Ricky Jordan. At third base, of course, was one Michael Jack Schmidt, who was returning after his '88 season was cut short due to a shoulder injury amid rampant speculation that he would retire after the '89 campaign. Catcher Steve Lake and outfielder Curt Ford were acquired from the Cardinals to help strengthen the bench, which would also feature infielder Steve Jeltz, outfielders Bob Dernier and Dwayne Murphy, along with first baseman/outfielder Mark Ryal.
Top 1988 winner Kevin Gross was not a member of the starting rotation in 1989, as he was traded to the Montreal Expos in exchange for starter Floyd Youmans and reliever Jeff Parrett. Ken Howell was also added to the rotation after an offseason deal with the Baltimore Orioles. Another newcomer, Steve Ontiveros, was signed as a free agent and would round out a rotation that also included holdovers Don Carman and Bruce Ruffin. Spot starter/long reliever Larry McWilliams was acquired in the same deal that brought Lake and Ford to Philadelphia, sending center fielder Milt Thompson to St. Louis. The aforementioned Parrett would set up for closer Steve Bedrosian while Greg Harris and Mike Maddux filled out the remainder of the bullpen.
The 1989 season marked the start of a new era in a fashion sense for the Phillies as well. The iconic powder blue road uniforms that the club had worn since 1973 were now considered to be outdated, and the Phils switched back to a variation of the gray and maroon threads they'd worn from 1970-72. The Phillies kept this style through the 1991 season, after which they moved on to the look they currently sport.
Predicted to be a doormat in the National League East in '89, the Phillies got off to a surprisingly strong start as they won six of their first eight games and nine of their first 15. It was an all-around team effort in the early going, as most of the starting lineup got off to fast starts at the plate while Howell and Ontiveros did a fine job of settling in to their new homes. It wouldn't take long for things to start turning in the wrong direction, though, and by the end of April the Phils were below .500 at 11-12. They'd never again be that close to sea level. Jones, Ontiveros, Youmans, and Marvin Freeman (called up to replace Ontiveros) all went down with injuries that caused them to miss all or most of the remainder of the year during the season's first month, while Samuel and Parrett also hit the DL in that time.
With their record at 17-23, the Phillies set out for a nine-game West Coast trip on May 23. It started well enough, as Howell tossed eight innings of one-run, three-hit ball in a 4-1 victory over the defending World Champion Los Angeles Dodgers in the first game of the trip. The Phils would not win another game on the trip, losing the final eight contests before returning home and getting swept in three games by the Expos to push the losing streak to 11. Along the way, the franchise would bid a tearful farewell to its greatest player ever.
After the fifth loss during the streak, an 8-5 defeat at the hands of the eventual National League Champion San Francisco Giants on May 28, Mike Schmidt announced to the team that he had played his final game. Like the ballclub itself, Schmidt had fizzled after getting off to a decent start, hitting just .203 with six home runs and 28 RBI in 42 games. He was also struggling badly at third base, having made eight errors while losing most of his range at the hot corner. Feeling he could no longer play up to his standards, Schmidt had been strongly contemplating retirement for quite some time. The May 28 game sealed his decision. With two outs in the fourth inning and the score tied at 3-3, Schmidt booted a routine grounder by San Francisco's Robby Thompson to load the bases. Will Clark followed with a grand slam to give the Giants a 7-3 lead en route to the victory. Schmidt decided at that moment he was playing in his final game and said as much to first base coach Tony Taylor after his final plate appearance, a ninth-inning walk against Mike LaCoss.
The official announcement of Mike Schmidt's retirement came on May 29, 1989. On that Memorial Day, a throng of reporters gathered around a makeshift podium in the clubhouse at San Diego's Jack Murphy Stadium. During an emotional speech, Schmidt said, "Over the years of my career, I've set high standards for myself as a player, and I always said that when I could no longer live up to those standards, then it would be time to retire. I no longer have the skills needed to make adjustments at the plate to hit or to make some plays in the field and run the bases." Schmidt began to lose his composure when he said, "Some 18 years ago I left Dayton, Ohio, with two very bad knees..." and broke down while continuting with "...and a dream to become a Major League Baseball player. I thank God that the dream came true." At that point, Schmidt walked away from the podium, where fellow Phillies great Richie Ashburn consoled him in a scene few who saw it will ever forget.
While the organization was no doubt saddened by Schmidt's retirement, they also saw it as an opportunity to overhaul the ballclub. On June 2, James (who had taken over at third base for Schmidt) was traded to the San Diego Padres in exchange for first baseman/outfielder John Kruk and utility man Randy Ready. The deal was a surprise to many, since James was assumed to be the heir apparent at the hot corner, but that was nothing compared to what happened 16 days later.
During a Father's Day game against the New York Mets at the Vet on June 18, Bedrosian was called out of the bullpen, but not to take the mound. The reason for this was so the Phillies could announce he'd been traded to the Giants in exchange for lefthanded pitchers Dennis Cook and Terry Mulholland along with minor league third baseman Charlie Hayes, who was expected to take over at that position for the parent club in the near future. While that deal sent some major shockwaves around baseball, Lee Thomas wasn't even done making moves for that day. A walkoff homer by Von Hayes off Randy Myers gave the Phils a 6-5 win over the Mets, after which neither team was immediately allowed to enter their clubhouse due to the fact a trade between the squads was ready to be announced. This one saw Samuel head over to the Mets, with center fielder Lenny Dykstra, relief pitcher Roger McDowell, and a player to be named later (minor league pitcher Tom Edens) coming to the Phillies.
By the time the Father's Day deals went down, the Phillies were in last place with a record of 23-41. Rare as they may have been, the Phils did manage to record a few very memorable victories along the way. One came on May 15 at the Vet against the Giants as Carman and Scott Garrelts each tossed nine scoreless innings. The game remained deadlocked until the 12th when Will Clark and Kevin Mitchell hit back-to-back home runs off their future teammate Bedrosian to give San Francisco a 2-0 lead. One-out singles by Thon and Lake gave the Phillies a pair of baserunners in their half of the inning, and they were driven home with two outs when Dernier lined a ball to the left field corner that kicked away from Mitchell, who had difficulty picking it up. Dernier circled the bases for a walkoff three-run inside-the-park home run and a 3-2 win for the Phils.
One of the most unlikely victories in franchise history came at the Vet on June 8, 1989 against the Pittsburgh Pirates. On that night, the Phillies spotted the Pirates a 10-0 lead in the top of the first, which caused Bucs color analyst Jim Rooker to remark he would walk back to Pittsburgh if the Pirates lost the game. Thanks to two home runs each from Hayes and Jeltz and a five-run eighth inning, the Phils roared back for a 15-11 win. Rooker made good on his promise, walking from Philadelphia to Pittsburgh for charity following the season. Eight days after the comeback against Pittsburgh, the Phillies allowed eight runs in the first inning against the Mets at Veterans Stadium. Again, the Phils battled back, scoring five in their half of the first and eventually taking an 11-10 lead after seven. Victory would prove elusive in this game, though, as New York scored five runs over the last two innings for a 15-11 win. The Phillies did earn another big comeback victory on August 10 against the Cubs at Wrigley Field, rallying from a 10-3 deficit for a 16-13 triumph.
Despite those heroics, it was largely a lost 1989 season for the Phillies, though their 67 wins were one more than their 1988 total. A last-place finish is still a last-place finish, and at 67-95, the Phils found themselves 26 games behind the NL East Champion Cubs and seven games behind the next-to-last Pirates.
Even in the worst of seasons, there are always some positives here and there, and that was the case for the Phillies in 1989. Though a late-season slump pushed his batting average down to .259, Von Hayes slugged a career-high 26 home runs while also leading the club with 78 RBI and 28 stolen bases in what turned out to be his only All-Star campaign. Jordan overcame a slow start to hit .285 with 12 homers and 75 RBI while Thon placed second on the club with 15 homers. Herr hit .287 in what would be his only full season as a Phillie, while Kruk rejuvenated his career by batting .331 in 81 games after being dealt from San Diego. Ready was the team's top bench performer after arriving with Kruk, hitting .267 with eight home runs in 72 games. Jeltz's four home runs were the first ones he'd hit since 1989, and though his .243 average may not look like much, it was his career-high. Charlie Hayes had his ups and downs at third base, but showed some promise by hitting .258 with eight homers and 43 RBI in 84 games with the Phils. On the negative side, Daulton hit just .201 in 131 games, which did nothing to ease doubts about his ability to hold down a full-time role. Dykstra hit just .222 in 90 games after being acquired from the Mets. The players who occupied the bench did very little to make the regulars worry about job security.
On the mound, Howell was the club's top starter, maintaining a 3.44 ERA while generally pitching better than his 12-12 record would suggest. Parrett won a dozen games out of the bullpen, going 12-6 with six saves and a 2.98 ERA in 72 appearances. McDowell had a sparkling 1.11 ERA in 44 games after arriving with Dykstra while also winning three games and saving 19. Pat Combs, a first-round pick in the 1988 Draft, debuted in September and proceeded to go 4-0 with a 2.09 ERA in six starts. Unfortunately, pitching performances such as Carman's league-leading 15 losses and 5.24 ERA were more the norm for the 1989 Phillies. Opening Day starter Youmans went 1-5 with a 5.70 ERA in 10 starts, while McWilliams was 2-11 before being traded to the Kansas City Royals late in the season.
The 1989 season was one of transition for the Philadelphia Phillies, albeit one that produced a familiar result in the end. The club did show some encouraging signs in the latter stages of the campaign and it was now a matter of building on that as the 1990s loomed.
Personal Recollection: I guess for a lot of Phillies fans in my age group, we went through some trying times rooting for the team. The 1989 season was one of those where you knew they weren't going to be any good and it didn't seem like there was much hope for getting much better in the foreseeable future. Another example of being able to stick with a team through pretty much anything if you can stick with them then.
I'll never forget watching Mike Schmidt's retirement press conference. Although Michael Jack obviously was nowhere near the player he once was, it was difficult to imagine the Phillies without him. It was so unexpected to see him break down like that, you couldn't help but choke up a little yourself. A day or two later, Schmidt held another press conference at the Vet for those reporters who weren't present in San Diego. It wasn't nearly as emotional, though there were times when he struggled to maintain his composure. Schmidt closed that conference by addressing young Phillies fans, in which he said, "Have faith in God, work hard, never give up, and your dreams will come true. Mine did."
The trades that were made elicited mixed reactions from Phillies fans, myself included. I guess I was a little too young to understand why you'd trade a guy like Steve Bedrosian, but as Lee Thomas remarked, "You don't need a great closer when you never have the lead." As if that wasn't bad enough for me, I pretty much lost it when the Juan Samuel trade was announced. Sammy was one of my favorite players and I absolutely loathed Lenny Dykstra when he was with the Mets. I wondered how I could ever root for a guy like that. I was rather indifferent towards Roger McDowell, though I thought it was kinda cool he shared a last name with my mother's side of the family. Pretty much all I knew about John Kruk at that point was that he was a fat guy with a weird batting stance. As it turned out, the Phillies got the better of all of the trades they made, and in Dykstra, Kruk, and Terry Mulholland, had three key contributors to the pennant-winning 1993 team.
As I mentioned earlier, for such a poor season, the Phillies did have some memorable wins in 1989:
- Bob Dernier's inside-the-park game-winner against the Giants produced arguably my favorite Harry Kalas call: "Swing and a line drive, it's a fair ball down the left field line going all the way into the corner! Here comes Thon into score, LAKE BEING WAVED AROUND...MITCHELL CAN'T PICK IT UP! LAKE SCORES, HERE COMES DERNIER! THE THROW TO THE PLATE...SAFE! I CAN'T BELIEVE IT! THE PHILLIES HAVE WON, 3 TO 2, IN THE BOTTOM HALF OF THE 12TH INNING! INCREDIBLE! Mitchell could not pick the ball up, down in the left field corner. It kicked away from him! Dernier has circled the bases! The Phillies have won, 3 to 2 in the 12th, would you believe it? Bedlam here at Veterans Stadium, when all looked lost. The Fightin' Phils came back and won, 3-2!" Whitey's yelling and screaming in the background was awesome, too.
- There was a 3-1 win over the Padres at the Vet on May 21, when Steve Jeltz's two-run home run in the eighth proved to be the difference. It was his first homer since 1984.
- The Jim Rooker game was an absolute classic, as was Richie Ashburn's call of Jeltz's second home run: "Fly ball, is it? Is it? IS IT? OHHHHHHHHHHHHHHHHHHHH! THREE-RUN HOMER, STEVE JELTZ! (pause as Whitey was audibly laughing before regaining his composure) His second home run of the ballgame! The Phillies now trail, 11-9!" Jeltz also became the first Phillie to homer from both sides of the plate in the same game. The only two Phils to accomplish the feat since are Tomas Perez in 2001 and Jimmy Rollins in 2006.
- I don't remember any great Harry or Whitey calls from the 16-13 game at Wrigley. The ball was flying out that day, as Kruk, Darren Daulton, Randy Ready, and Ricky Jordan all went deep for the Phillies while Ryne Sandberg hit a couple bombs for the Cubs. Jeltz also made a great defensive play that day, when he fielded a grounder up the middle before flipping behind his back to Dickie Thon for a force at second.
- Thon hit a walkoff homer to beat the Mets, 2-1 on September 12 at the Vet, while Tom Herr hit one to win a game at Shea Stadium, 2-1 on September 25, which helped knock the Mets out of the race. McDowell got Gregg Jefferies to ground out for the final out in a 5-3 Phillies win at Shea on September 27. McDowell and Jefferies then exchanged some words, which led to a bench-clearing brawl. Weird, wild stuff.
The Home Companion that year was entitled "(Not Necessarily) Another Day at the Yard" and was hosted by Nick Leyva. Like many Home Companions, there was more focus on off-the-field stuff than what happened on it. One of the highlights was the team's annual Spring Training golf outing, in which Samuel decided to play the role of reporter. As the outing was wrapping up, Sammy saw Harry the K, who'd obviously consumed some adult beverages by that point. Samuel said, "Let me hear it!" to which Harry replied "Juan Samuel...rounding first on his way to second, look at Sammy run! He'll go to third, a triple for Juaaaaaaaaaaaaaaaaannnnnnnnnn Saaaaaaaaaaaaaaaaammmmmmmmmmm-uelllllllllllllllllllllllllllllllllllll!"
Another highlight was a segment entitled "Kruk's Korner" where the host basically rips on the misadventures of his fellow teammates, notably Ready's run-ins with the outfield wall at the Vet and Steve Lake's journeys on the basepaths. The tables were turned in the end, when Ready took over and showed Kruk's infamous tumbling headfirst slide into second as well as forgetting the number of outs in left field against the Pirates, which allowed Bobby Bonilla to score from second on a routine fly ball. McDowell's pet snake and his hot foot pranks were also featured prominently. The players seemed to enjoy each other's company, which is always a plus. As Von Hayes put it, "It's nice that we're ending the season and we don't hate each other." Didn't help them a ton on the field, though they did pick things up a little in the second half, going 35-43 after the All-Star break as compared to 32-52 before it. My, how times have changed.
Given how popular the powder blue uniforms are now, it's hard to believe that by 1989, everyone seemed ready to move on from them. Guess absence makes the heart grow fonder. The gray uniforms were exactly the same as the powder blues in design, just a different color. They must not have made a significant impact, because there's a lot of people now who don't recall the Phillies switching to road gray prior to adopting their current logo in 1992, assuming they kept the powder blues until then.
That's my story on the 1989 Phillies season. Feel free to share your own recollections.