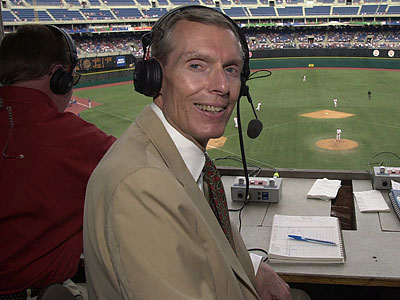 By now, I'm sure all of you have heard about the passing of Andy Musser, who died of complications from heart disease on January 22, 2012. He was 74. A native of Harrisburg, Musser was a Phillies broadcaster from 1976-2001, and also made a few substitute appearances in the season or two following his retirement. In addition to his 26 seasons with the Phils, Musser was the play-by-play voice of the Eagles, 76ers, and Big 5 college basketball from 1965-71. He returned to the Sixers for separate stints in the 1980s and 1990s and was also the radio voice for Villanova men's basketball for several years in the 80s and 90s. Musser also did play-by-play work for the San Diego Chargers and covered the World Series, Super Bowl, and Masters golf tournament for CBS.
Though he didn't have quite the impact on me that Harry Kalas and Richie Ashburn did, Andy Musser was certainly a key part of my youth as a Phillies fan growing up in the 80s and 90s. Brought in to replace retiring Hall of Famer Byrum Saam in 1976, Musser proved to be a very capable backup to Harry the K, providing an understated delivery and a knack for providing off-the-wall statistics that, while not always completely relevant to the action on the field, were a testament to Musser's preparation. It probably should come as no surprise over the past couple days that when former colleagues share their recollections of Musser, the word "professional" is invariably uttered.
As I've mentioned numerous times on here, my family had Phillies Sunday season tickets from 1979-2001 before switching over to our current 17-game plan in 2002. On the way home from Sunday games, we'd always turn on 1210 to hear the Star of the Game show and highlights. Since those games were broadcast on over-the-air stations, Harry Kalas would do innings 1-3 and 7-9 on TV, with Musser handling the radio duty during that time. While Musser wasn't necessarily known for making emotional calls, he would raise the excitement level for a key Phillies hit late in the game. A big Phillies home run would often produce a call that sounded something like, "High drive, deep left field, way back.....GAAAAAAAAAAAAHHHHHHHNNNNNN!" There were quite a few people who didn't particularly care for Musser's style, but I never had a problem with him at all. Over his final three seasons with the Phils, Musser was relegated to part-time duty as Scott Graham handled the bulk of the radio play-by-play. I was probably in the minority, but the more I heard Graham, the more I appreciated Andy (I was always on the fence about Scott Graham. Thought he had a good voice and liked his enthusiasm, but that atrocious "Say Goodbye!" home run call from his early years that he fortunately ended up dropping made a lousy first impression. I may get flamed for this, but I also felt that his "Put this one in the win column for the Fightin' Phils!" trademark call sounded really forced).
When thinking about Musser's passing, it occurred to me that for every great Harry Kalas call over the course of a quarter-century, there was often an Andy Musser call being made at the same time. While obviously not coming anywhere close to Harry's legendary status, Andy proved he could also come up with some classics. The most famous of these occurred on October 4, 1980, when Mike Schmidt connected for a two-run homer in the top of the 11th inning off Stan Bahnsen of the Montreal Expos, giving the Phils a 6-4 lead that Tug McGraw would preserve in the bottom half to give the Phillies their fourth National League East title in five years en route to the franchise's first World Series victory. Most of you have heard this call many times, but in case you haven't, it went like this: "The pitch to Schmidt...LONG DRIVE TO LEFT FIELD, HE BURIED IT! HE BURIED IT! WAY BACK, OUTTA HERE! HOME RUN, MIKE SCHMIDT, PUTS THE PHILLIES UP, 6 TO 4! Oh, what a drive by Schmidt, unbelieveable! He hit that thing DEEP to the seats in left field! And the Phillies greet Schmidt at the plate, Mike clasps his hands, he shakes hands with all of his teammates, what a wild scene in Montreal!"
In 2000, the Phillies produced a video to commemorate the 20th anniversary of the 1980 World Champions. When Musser described that call, he said that Schmidt's home run was such a no-doubt-about-it shot, that he said "HE BURIED IT!" for whatever reason, never saying it before or after. It wasn't the last memorable call Musser would have in 1980, as he at the mic on radio when Dick Ruthven got Enos Cabell to line out to Garry Maddox for the final out of the decisive fifth game of NLCS against the Houston Astros: "Swing and a punch-shot into right center, Maddox races over...he catches the ball! Phillies win the pennant! The Phillies have won the pennant! The Phillies win the ballgame, 8 to 7, they go to the World Series for the first time in 30 years!"
There were many other quality calls that I can't recite word for word, but some of those include Ozzie Virgil's walkoff grand slam to beat the Giants in 1983 ("He hits it a ton...that ball is a GRAND SLAM HOME RUN, OZZIE VIRGIL!"), the Paul O'Neill drop kick against the Reds at the Vet in 1989 ("Jeltz rounding third, the ball gets away...and he goes BACK!"), and Dave Hollins hitting a tremendous two-run homer of Greg Maddux to give the Phils a 4-1 lead over the Braves in Game 6 of the 1993 NLCS en route to a pennant-clinching 6-3 victory ("Watch it! Watch it! GAAAAAAAAAAAAAHHHHHHHHNNNNNNN TO THE SEATS!").
I can't speak of Musser's play-by-play with the Eagles or early Sixers work, since it all came before my time and I have never heard any of it. The only CBS call of his that I've ever heard is a Larry Csonka touchdown from Super Bowl VIII (Dolphins vs. Vikings) that NFL Films runs from time to time, and the only part they show is "Touchdown, Larry Csonka!" I've also mentioned on here before that my family didn't have cable until 1997, so I didn't really get to hear much of Musser on Sixers telecasts, since he only did cable games. In 1992, I was in attendance at a game against the Orlando Magic where Manute Bol blocked four consecutive shots on one possession. When watching highlights on the news later that night, they showed Andy's call ("There's a block...there's another one....another one....another one!") which was outstanding to just hear the sheer amazement in his voice. Like everyone else in the Spectrum that night, Musser couldn't believe what he was seeing. I also enjoyed Andy's work on Villanova basketball, especially those mid 90s teams that featured the likes of Kerry Kittles, Alvin Williams, Chuck Kornegay, Eric Eberz, Zeffy Penn, etc. I remember one broadcast in which color analyst Whitey Rigsby remarked that an opposing center (can't recall the opponent or player in question) looked like "a big dumb kid" and probably wasn't doing much studying in college. Without missing a beat, Andy simply replied, "Aw, Whitey, you know that kid's probably a Rhodes Scholar."
As was the case with By Saam and Richie Ashburn, and would later be the case with Harry Kalas, Musser's eyesight began to slip during his final years in the booth. To put it mildly, fly balls became somewhat adventuresome with Andy. But still, he rose to the occasion during his last home broadcast before retirement (September 23, 2001) as Johnny Estrada sent the Fan Appreciation Day crowd home happy with a walkoff home run against the Marlins that helped pull a surprising Phillies team into a tie for first place with the Braves: "Acevedo's pitch...a drive to deep right it is GAAAAAAAAAAHHHHHNNNNNN, Johnny Estrada wins the ballgame! A leadoff home run in the 10th inning and the Phillies have defeated Florida, 5 to 4!"
A noted beer connoisseur who no doubt would've been a perfect fit with this blog, Musser kept busy after retiring from broadcasting by serving as an ambassador for the Anchor Brewing Company. I'd never heard of Anchor Steam beer until Joe Sixpack did a feature in the Daily News on Musser's work for them. In fact, I'm not sure it was even sold in the Philadelphia area before then. Now it's one of my favorites. It's also available at Citizens Bank Park, and I would imagine his affiliation had something to do with that. So if you like to indulge in an Anchor Steam at a Phillies game, I'm sure Andy Musser will be smiling somewhere.
All in all, a great career and life. Though he wore many hats, Andy Musser will best be known as second banana to Harry Kalas, but if you're going to be second banana to anyone, you can do a whole lot worse. Rest in peace, Andy. You're yet another voice from my childhood that may be gone ("GAAAAAAAAAAHHHHHHNNNNNNNN!") but will never be forgotten.